Hello there chocolate lovers! Today I am linking with the Crazy Cooking Challenge hosted by
Moms Crazy Cooking
.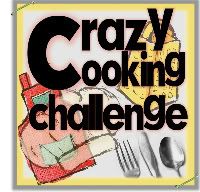 This month's challenge is chocolate cake. I found the recipe for Chocolate Marshmallow Cake
here
and got started this afternoon. Here's the recipe without adjustments:
Chocolate Marshmallow Cake
2 cups boiling water
1 cup unsweetened cocoa powder, use high quality
2 3/4 cups all-purpose flour
2 tsp. baking soda
1/2 tsp. baking powder
1/2 tsp. salt
1 cup butter, at room temperature
2 1/4 cups granulated sugar
4 eggs
1 1/2 tsp. vanilla extract
18 HUGE marshmallows or twice as many large marshmallows
Preheat oven to 350 degrees F.
Grease large mugs that are oven safe. The ones I used are about 5-6 inches in diameter. You could use just regular cake pans if need be, but the mugs are more fun.
In medium bowl, pour boiling water over cocoa, and whisk until smooth. Let mixture cool. Sift together flour, baking soda, baking powder and salt; set aside.
Using a stand mixer, cream butter and sugar together until light and fluffy, about 3 minutes. Beat in eggs one at time, scraping down after each addition. Beat in vanilla.
Add the flour mixture alternately with the cocoa mixture. Spread batter evenly between the 3 prepared mugs (about ¾ of the way up…maybe less).
Place three marshmallows in the middle of the cake. Place the mugs on a baking sheet…the marshmallow will spill over…it's okay, makes for a nice effect. You will want to put tin foil over the cake as the marshmallow will brown too much otherwise…make sure you tent the foil as opposed to wrapping the cake pan in it. Loose is your friend (yes, that sounds bad )
The baking time is going to vary based on your mug or pan size. If you are just doing cake pans it will be about 30 minutes. My mugs were smaller, but much deeper and took about 50 minutes to bake. You just need to watch and see.
Remove from oven and push another three marshmallows into the cake. Either put under a broiler for a minute or two or use a culinary torch to melt them a little. Serve warm.
* * * * * * *
I didn't want a huge cake, so I cut the recipe half. As you can see the halved recipe was still too much for a single cake pan. Part way through the baking process the batter started spilling over the sides. Good thing I put the pan on a cookie sheet covered with parchment paper.
Doesn't it look amazing?!! Chocolate lava....
Also, I had to use regular large marshmallows, because I didn't have the jumbo size on hand. I just shoved the marshmallows all over the top of the cake. Here it is out of the oven the first time and before adding the extra marshmallows....
And here we are after the final trip in the oven under the broiler. As you can see below, one of the marshmallows got alittle burnt. Anybody else besides me like their marshmallows torched at a bonfire?
This is by far the best scratch chocolate cake recipe I have tasted with or without marshmallows. Very chocolaty. Moist. Great texture. Mmmmmm.....