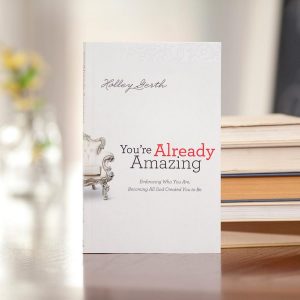 You're Already Amazing
Embracing Who You Are,
Becoming All God Created
You to Be
This is not a book I would normally choose to read.
However, I must say, although I had intended to skim through
and give a little overview of the content,
I found myself stopping to consider
the truths I found on those pages.
At the time of this writing, I'm about half way through
and looking forward to continuing at the same leisurely pace.
Holley uses loads of personal stories, as well as other
real life examples from her work and life.
There is also plenty of Scripture.
Each chapter contains exercises to help the reader
focus on the topic and examine herself.
I found these helpful in order to make
This book would be appropriate for individual or
group study.
These cards were included
in my packet
for review, as well.
Colorful and pretty, they're high quality card stock as you would expect from DaySpring. I have a list of friends I know will appreciate getting one of these.
Read more about Holley Gerth's You're Already Amazing
and
encouragement cards
here
.
I received this book free from DaySpring to review and all opinions stated are my own.